Home > Steve > Steve's music > Musician's photos
Musician's Photos
---
at the 100 Club in London, March 97.

---
of Jethro Tull at Guildford Civic Hall, November 96.

---
at Salisbury, September 96.


A manic blur of Ric Sanders, with sedate Dave Pegg, Simon Nicol and Maartin Allcock.
---
at Linda's birthday party, March 2002.


Pete Zorn, Neil Marshall, Kellie While, Ashley Hutchings, Joe Broughton.

Not a great photo, but it was a great evening.
---
at the Ram Club, Claygate, February 2004.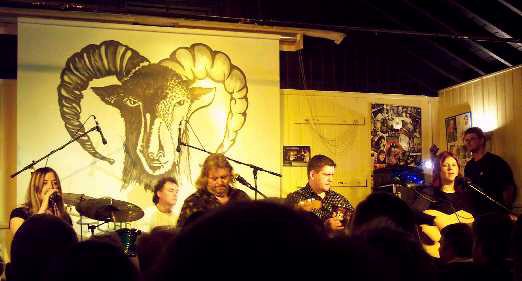 The eponymous club banner with the right-hand half of the band:
Deb Sandland, Steve Crickett (dead for tax reasons), Phil Beer, Gareth Turner, Miranda Sykes (and off photo to the left was Nick Quarmby).
---
at the Crawley Folk Festival, June 2005.

---
Martin Carthy and Norma Waterson at the Waterson:Carthy concert at Cranleigh Arts Centre, April 2006.

---
at the Colston Hall, Bristol. October 2010.

---
Home > Steve > Steve's music > Musician's photos
Last updated 2010-10-30
This page is part of http://www.stocton.org/
Email: webmaster@stocton.org
---